This bike trip is my 60th-birthday present to myself. We spend 1/3 of our trip in Texas, my birth state. I haven't visited there in over 45 years. It'll be fun to revisit it by bike. And an even more important reason: I'm cycling for LuAnne. LuAnne & Kenny Lefler are avid cyclists. (Kenny is also a bike mechanic extraordinaire; he keeps my bike operating at peak performance.) After experiencing numbness during a bike trip in 2001, LuAnne was diagnosed with multiple sclerosis. With determination & physical therapy, she worked her way back to some biking by summer 2002. Then in fall 2002 LuAnne was diagnosed with a rare form of breast cancer---inflammatory breast cancer. Since November she's been undergoing intensive weekly chemotherapy treatments. Surgery is planned for late April or early May....then more chemo. (The photo shows Kenny & LuAnne with their tandem on the Cassville Ferry in Sept 1999.)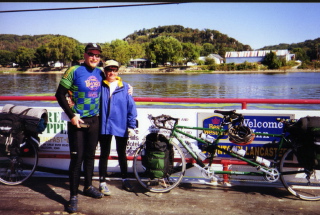 But LuAnne is already talking about biking this summer. Her spirit is indomitable. And she says, "If this darn cancer is going to try to get me, then I'm going to use it." I'd like to help her use it....to raise money to fight the disease. I hope you'll join me. LuAnne & I invite you to send a check, made payable to the National Breast Cancer Coalition Fund, to: NBCCF
Attn: Accounting
1707 L Street NW, Suite 1060
Washington, DC 20036 In the memo section (& on the outside of the envelope, if possible), please write, WOMANTOURS--LUANNE. I called the NBCCF & learned that, of the funds they raise, 80% supports their programs, 5% goes to fundraising, & 15% is for administrative overhead. Learn more about the NBCCF here. As Sweet Honey in the Rock would sing, "We are the ones we've been waiting for." we each have the power to conquer cancer & need to do our part now.