5/25 - Guffey (34 miles 2115.5 total)

our group doubled the population of guffey when we pulled in this afternoon. what a cute little town, & the people couldn't be more friendly or accommodating.
but back to the beginning of our day. when we opened the curtains at our motel around 6 the sky was clear; it was beautiful. at about 6:45 when i went out into the parking lot to make sandwiches & eat breakfast, it was cloudy & cool; the time/temp nearby showed 56, but it felt cooler than that.
many riders took off early because they planned to stop at the royal gorge 11 miles west. sari & i skipped the gorge; she had seen it 2 days earlier with her sister & i didn't want to pay the $10.50 entrance fee then not be able to look over the edge. i'm petrified of heights.
as sari & i rode out of town we passed the territorial prison, originally built in 1871 when colorado was a territory. it's still a correctional facility; we have seen 5-6 correctional facilities along our route the past 4 days. it's been surprising to see so many in so few days. does colorado have more correctional facilities than most states?
the folks who visited the gorge had a great time. for their entrance fee they could bike or walk over the bridge spanning the gorge, ride the cog railway down the gorge's wall to the river way below, &/or ride in the gondola car hung on a rope across the chasm. it was a bit foggy at first, but didn't detract from the thrill of seeing such an awesome natural wonder.
sarah went whitewater rafting this morning before biking. at 8:15 she arrived at 'raft masters' near our motel in canon city. they took her & others (but no bikers joined her) by bus 14 miles west; then they rode down the arkansas river through the bottom of royal gorge in a large rubber raft....buffetted by class 3 & class 4 rapids. she rented a wet suit so didn't get soaked by the water that washed into the raft. she had a great time. at 12:30 she started biking toward guffey.....all by herself.
in the meantime sari & i made our way to guffey on the wide shoulder of 4-lane U.S. highway 50. we climbed most of the way to the gorge; it was very chilly, tho' we built up quite a sweat. right after the gorge turnoff we headed north on state hwy 9. we headed down into a gorgeous valley, but were soon climbing again. the skies started clearing, then the sun started shining, & we had to stop immediately to shed some clothes.
| | |
| --- | --- |
| | you'll see in the photo how lovely the landscape looked....a red barn to the right, horses in the field, & of course those gorgeous mountains & clouds. you can see that we didn't have the roads to ourselves. |
in another few miles, all of a sudden dark clouds rolled in over the mountains, thunder was rolling, & bolts of lightning flashed. sari & i stopped immediately to bag our cameras. before we could get our raincoats on the drops started falling. the lightning convinced us to park our bikes along the edge of the road & find a little depression along the roadway to sit out the worst of the storm. we found a nice warm rock & sat to chat. i looked down at my knee & noticed a little ice pellet sitting on it; part of that precipitation was hail.
typical of colorado, it wasn't too long before the rains stopped & the skies started clearing again. sari & i adjusted clothing layers & got back on our bikes. we had very few downhill stretches today; even when we seemed to be on level ground we were in granny gear. we were climbing even when we thot we weren't.
early afternoon we arrived at guffey.
| | |
| --- | --- |
| here you see the initial gathering place of the bikers...the general store. | |
we were scattered all over town for sleeping. 8 slept in some new bed&breakfast rooms in back of the general store. a half dozen others slept on the floor of a log cabin nearby. 10 of us slept on the floor of "our place," a cute little restaurant run by karen & JoAnn.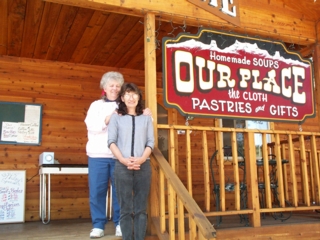 that's the 2 of them on the porch of their establishment.
they're already starting to prepare for a really big annual event coming up in guffey this saturday....the great guffey biscuit & gravy cook off. they even have cute t-shirts in honor of the event. some of you lucky rider relatives will be the recipients of those t-shirts sometime over the next week or so.
many of us spent the afternoon at "our place" chatting....& eating pie. the strawberry rhubarb--made with fresh strawberries & rhubarb--was scrumptious.
| | |
| --- | --- |
| going around the table from left in the photo are sari, lee, me, judith, deanna, & judy with her back to the camera. | |
patty fixed salmon burritos for supper, with some delicious homemade black bean salsa....along with steamed broccoli & a greek-type salad. strawberry shortcake was dessert. many bikers also--or instead--had pieces of pie from the restaurant. karen & JoAnn let us use their whole restaurant for inside dining; it was quite chilly outside by suppertime.
you'll see what happened to the dining room by 7:30: it became a dorm room.
| | |
| --- | --- |
| | that's gerrie--still in her sunglasses--flossing her teeth. |
we're overwhelmed by the generosity of karen & JoAnn; they've let us take over their establishment & they never stop coming up with ways to help us. they even said that if we have a yen at midnight for one of those pieces of pie or cake from the display case, we should just help ourselves & pay them in the morning. thank you, thank you, thank you, 'our place.'
it'll be 45 miles uphill tomorrow to fairplay. we'll drink lots & lots of water before taking off; gloria tells us that's a way to fight altitude sickness. here we thot sore thighs & knees were all we had to worry about.
Higher quality versions of the pictures from my trip are available here. If you would like copies of the original, full-size photos, or if you would like text-only versions of these daily reports e-mailed to you, feel free to e-mail my son Mark with your request. Stay tuned....
---
BACK TO UPDATES
---
This page, and all linked pages, were created on an Apple iMac DV SE running Mac OS 9, BBEdit Lite 4.6, Fetch 3.03, and Netscape 4.7.